Pathogen Mitigation Practices for the Aquaculture Industry
Aquaculture environments face a range of threats when it comes to bacterial pathogen contamination. A whole host of dangerous germs can be in waters and easily contaminate aquaculture environments, fish and seafood products if effective pathogen prevention and mediation practices are not in place.
Fish and other aquaculture products can fall victim to pathogenic germs like Salmonella, Listeria. Campylobacter and Staphylococcus. Reliable pathogen prevention and elimination in fish and seafood farming is critical for the safety of your finished product, consumers and your brand reputation.
Aquaculture & Marine Bacterial Remediation Consultants
Log10®, an accepted leader in food safety, specializes in consulting, research, analytical testing and pathogen mitigation using Pre-Liminate™ probiotic blends. We provide an ISO 17025 accredited laboratory with reliable microbial testing for indicator organisms and pathogens for finished food products as well as environmental monitoring samples. We specialize in customized research such as shelf life, validation, strain isolation and ID and pathogen inhibition studies. Log10® provides clients with food safety consultants for training in areas such as Preventive Controls Qualified Individual (PCQI), Hazard Analysis Critical Control Points (HACCP) recognized by the International HACCP Alliance, Good Manufacturing Practices (GMP), and additional courses and training options as requested.
Contact an Aquaculture and Marine Bacterial Remediation Consultant
What Is Aquaculture & Aquafarming?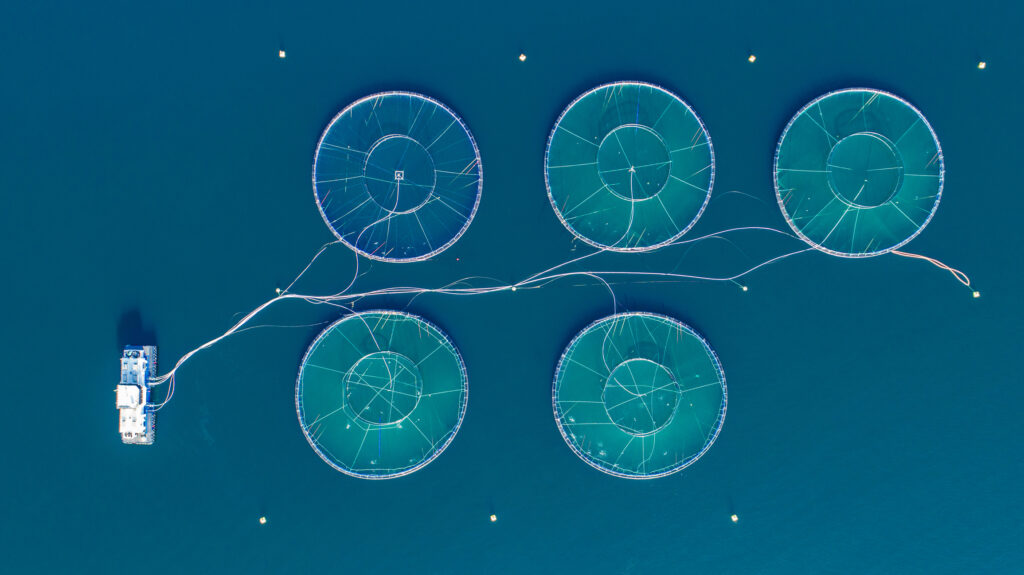 Aquaculture is the fastest-growing sector in animal food production and refers to the growing, raising and harvesting of fish and seafood, among other marine products such as algae. Much like traditional agriculture, aquaculture requires its own methods of food safety precautions, sanitation, outbreak testing and bacterial remediation.
Fisheries and other aquaculture environments are critical to our nation's fish and seafood production and are some of the most important ways to produce sustainable protein using minimal resources. Aquaculture is responsible for more than half of the seafood produced for human consumption in the world, making it an important sector in the production of safe food. Log10 is a bacteria remediation company for Aquaculture companies who can fully support all of your food safety research, testing, training and consulting needs to ensure the safety of your facility and products.
Custom Probiotics and Bacterial Remediation for Aquaculture
Most bacteria flourish in aquatic environments yielding a food production environment that can be a challenging one to control. Fish that die of disease often do so in the very same water that contains otherwise healthy animals, which can result in a rapid outbreak. It can be problematic to treat aquatic animals like shrimp or fish with common antimicrobials, as that can leave them with residue, potentially rendering them unfit for human consumption. Some antimicrobials even contain chemicals that are considered carcinogenic to humans which makes this an even more serious concern for fish and seafood producers.
While the use of chemical pesticides and similar methods may seem like an inevitable necessity for maintaining a clean aquatic environment, when used as a control measure, they often create more problems than they solve.
Premier Aquaculture Probiotics Supplier for Bacteria Remediation
The use of probiotics in aquaculture can prove an ideal solution to combat this issue. Pathogen remediation using probiotics as an alternative to harsh chemicals can make your product safe for consumption and more likely to pass food safety inspections and be released into commerce.
If you are not familiar with probiotic use in aquaculture, they are "good" bacteria that can help maintain protected environments for producing healthy fish and other marine food products when potentially exposed to dangerous pathogens that can cause foodborne illness. Probiotics have been found to be particularly effective in combating common pathogens like Salmonella, Campylobacter, E. coli and Listeria among others.
When you contact Log10® for aquaculture pathogen control and remediation, you can receive the opportunity to utilize our Pre-Liminate™ probiotics. These formulations are proprietary blends of probiotic strains that we develop through continuous research, screening and testing, then customize for specific client facility environments and food products.
Our ability to develop customized Pre-Liminate™ probiotic blends is particularly useful for the aquaculture industry, which has unique needs distinctive from any other agricultural sector. Clients across the country use our probiotics in food processing plants and review them as highly effective in dramatically reducing microbial numbers for some of the most common and dangerous pathogens commonly found in food ingredients and products.
Log10® can provide immediate assistance at your facility by review of sanitation SOP's and protocol, providing analytical testing of finished product and environmental monitoring samples, locating possible sources and types of pathogenic bacteria contamination and developing cost-effective and targeted solutions which include pathogen remediation as necessary.
Log10® Pathogen Contamination Testing for Fisheries
Have a thriving aquaculture facility typically includes the frequent precaution of analytical testing of food sample and environmental monitoring samples for indicator and pathogenic organisms. Testing protocols may concentrate when new animals are brought into the facility or when animals have died unexpectedly while in the facility. Protecting the animals in an aquatic environment is crucial in aquaculture, and that protection starts with fast, reliable and accurate microbial testing. The addition of microbial testing to a food safety plan is critical to the prevention of issues such as disease outbreaks that can decimate a fishery.
Finding a reliable and accurate lab that is capable of providing analytical testing meeting the needs of the aquaculture industry is crucial but not always easy. Log10's Biosafety Level 2 and ISO 17025 accredited laboratory is utilized by many different sectors of food production industries and is a leading option for analytical microbial testing of aquaculture products and environments. Our trained professional experts can quickly identify potentially dangerous conditions in your facility, water and marine animal products, and also help you generate and coordinate targeted and effective remedial solutions.
Choose Log10® for Food Safety Training and Safety Plan Consultation for the Seafood Industry
The aquaculture industry takes the health and safety of food and marine products seriously. Log10 is equipped to offer a range of food safety experts and helpful training resources for aquaculture fisheries and seafood producers in addition to pathogen testing and aquaculture bacteria remediation services using proprietary Log10® customized blends of probiotics.
Resources offered by Log10® consultation experts include training that can assist you with food safety plan development, developing effective sanitation procedures and SOP's, PCQI training for animal food and more. One of our most requested trainings is the 1-day Hazard Analysis Critical Control Point course (HACCP). It can be delivered on-site at your facility and is recognized and accredited by the International HACCP Alliance.
These training and consultation programs can dramatically improve sanitation conditions when it comes to fish, seafood marine and other aquaculture products. By including professional training into your overall food safety plan, you can identify and prevent potential contamination threats before they become significant and costly problems. We can perform these training sessions at your aquaculture facility allowing minimal disruption to your daily production activities for maximum protection and benefits.
Contact Log10® for Contamination Control of Aquaculture Products at Your Facility Today!
From analytical testing to remediation using customized probiotics blends, to professional consulting and training, Log10® offers you the benefit of making aquaculture and marine products safer for the entire community. If you need consultation or training, reliable pathogen and analytical testing, bacterial contamination control or remediation at your aquaculture facility, please contact Log10® to speak to an expert today.