In the highly competitive food industry, much rides on controlling production costs. So it's understandable to want to know why using certified testing laboratories — such as the ISO/IEC 17025:2017 accredited services and facilities offered by Log10 — is worth it.
The answer has to do with how important the results of food testing are to your consumers and the ongoing success of your company. What follows is a brief explanation of what ISO/IEC 17025 accreditation means and why certified testing facilities such as ANAB-accredited labs are the only prudent choices for food companies that require competent food analysis.
Log10 — Your ISO 17025 Accredited Testing Facility
When you choose Log10 for your food analysis, you can be sure of independent, highly accurate results. Along with our probiotic certificate of analysis, our ISO accreditation specifies our expertise in testing for the following properties and microbiological pathogens:
Yeast and mold
Aerobic plate count
Generic E. coli / Coliforms
Enterobacteriaceae
S. aureus
Salmonella spp.
Listeria spp.
L. monocytogenes
E. coli O157:H7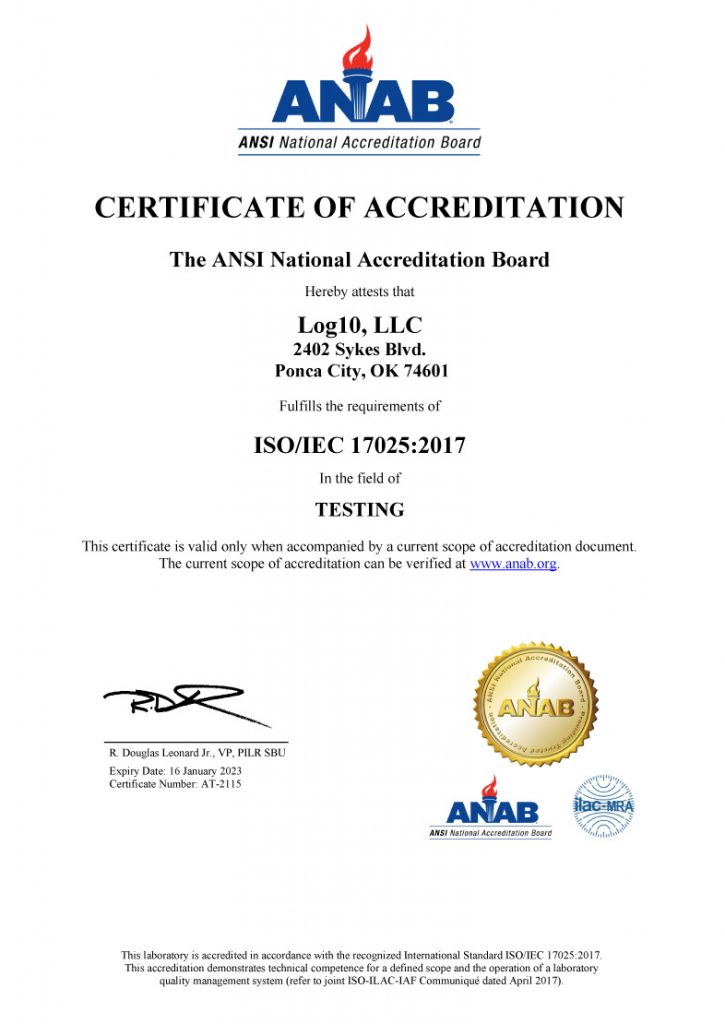 What's more: Our testing facility contains a state-of-the-art biological level II (BSL 2) pathogen laboratory. From here, our skilled scientists offer comprehensive food safety analytical testing and consulting services for human and animal food production facilities. Our commitment to accurately detecting and remediating foodborne pathogens and advancing the successful applications of probiotics in food science is unparalleled in the industry.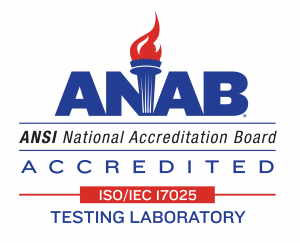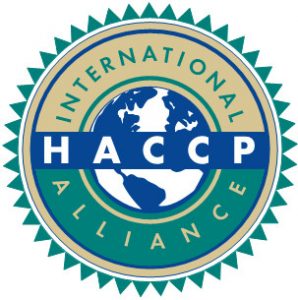 Contact us for more program information.
ISO/IEC 17025:2017 Accreditation — What's It All About?
ISO/IEC 17025:2017 represents the general requirements for the competency of testing and calibration laboratories as issued by the International Organization for Standardization — or ISO — and the International Electrotechnical Commission — or IEC. First published in 1999, 2005, and again in 2017 these requirements for accreditation form the industry standard for technical and managerial professionalism in the field of food testing.
To successfully obtain accreditation under this standard, a facility must have a highly effective quality management system in place. In addition, the standard specifically examines the following five aspects of the lab's operations:
Scope
Normative references
Terms and definitions
Management requirements
Technical requirements
When an assessment of these five areas, combined with the lab's quality management system, proves that the facility can consistently produce valid testing results, it's awarded ISO/IEC 17025:2017 accreditation. And food industry companies need the trustworthiness and dependability offered by ISO/IEC 17025:2017 accredited labs in order to provide their customers with the quality products they expect.
The Results of ISO/IEC 17025 Accreditation
Clearly, for competency in the field of food analysis, there's no substitute for ISO/IEC 17025 accreditation. To further illustrate this point, let's discuss how the results of holding this certification can generally be broken down into two main areas: technical and managerial.
The technical results mean that the lab delivers reliable and accurate tests due to its methodology, procedures, testing equipment, calibration equipment, quality control program and top-quality staff.
The managerial results mean that the organization's management structure, standardization of testing methods, document control, supply chain, and customer feedback procedures effectively support the lab's successful operation.
Learn more about Log10 and why working with an ISO 17025 accredited lab is the only smart business choice. Contact us today.