Pre-LiminateTM, the Log10® Probiotic Brand
          Log10® develops and manufactures the Pre-Liminate​TM brand of custom probiotics that are proven to prevent and eliminate specific pathogens in food and on food contact surfaces.   The food processor may desire the opportunity to put probiotics in the food offering the consumer some health benefits and, at the same time, mitigate pathogens in the process, in the product, or in the host (consumer).  As  these microorganisms are probiotics and safe to consume, they can be used directly on food or food contact surfaces.  Our products can be customized not only for application to food but for the plant environment as well.

To discuss production of a custom Pre-LiminateTM formula, click here to send email to our CEO, Siobhan Reilly.

To order Pre-LiminateTM, click here to send email to our Business Manager, Judy Duggan.
​
Log10® has screened thousands of Lactobacillus and Bifidobacterium to find ones that are effective probiotics.  Furthermore, we focus on criteria for selection that screens for the most aggressive strain against pathogens (e.g., Salmonella and Listeria) that has "anti-pathogen" biofilm properties.   
 
          We ISOLATE, IDENTIFY and SCREEN for the best good bacteria for your process and/or product.  We TARGET against the most important bad bacteria in your environment.  We validate the effectiveness of the CUSTOM good bacteria against your specific resident bad bacteria.  Our bacteria are host-specific, and have growth characteristics compatible with large scale production.

         Our state of the art Biological Safety Level 2 (BSL2) research laboratory and team can take any of our probiotics and specifically target environmental pathogens unique to your processing environment.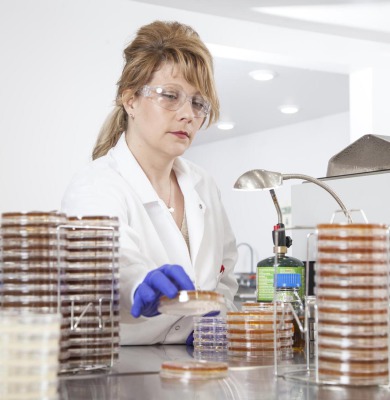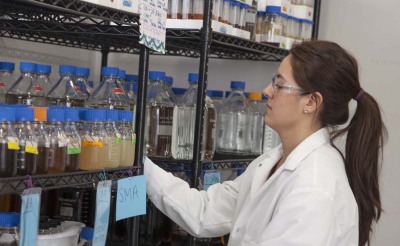 Click here to meet Dr. Lane Law, Director of Probiotic Research and Development
​​

Production of Pre-LiminateTM Probiotic Formulas.

          Our products are formulated to meet client specifications.  They are blends of selected microorganisms and carriers, and are produced under food-grade conditions.  All products are gluten-free and may be grain-free  if desired.   Products are produced weekly according to orders from clients, stored in freezers before shipping, and shipped to arrive before a weekend. 
           All our ingredients are human grade and GRAS (generally recognized as safe) for human and animal production facilities and food.  The ingredients go through strict quality control measures and testing prior to being introduced to our blending facility.  

          Production at our facility occurs every week to ensure that the organisms we use are healthy and in high concentration, and ready to mitigate pathogens.  Each production lot undergoes quality control, and comes with a meaningful Certificate of Analysis (COA) to provide the most accurate crucial specifications.

          Our blending facility also operates under strict control standards with an ISO/FDA based good manufacturing approach that involves Hazard Analysis Critical Control Point Systems (HACCP), current Good Manufacturing Practices (cGMPs), documented Sanitation Standard Operating Procedures (SSOPs), and a robust environmental testing program.